What is it like to play at the Vision Australia Carols by Candlelight? It's a show almost all of us have seen, we know the tunes and love the band, so what's it like to be on the other side, as a musician. We got a firsthand walk through from Shane.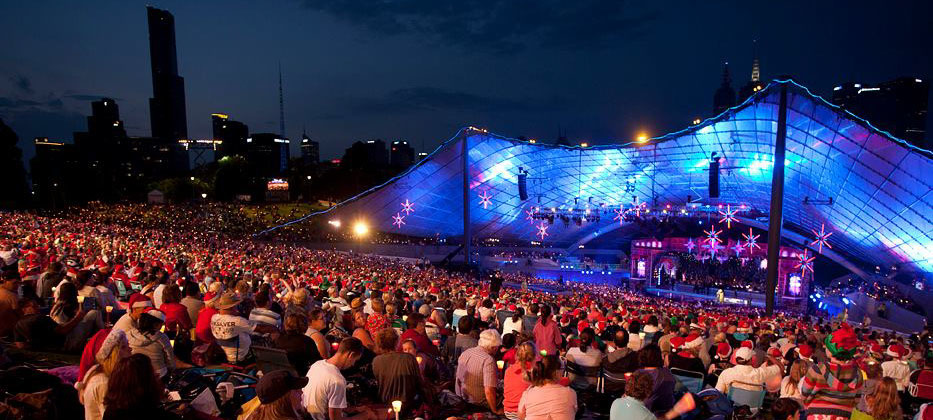 For those of you who are not familiar with what this is, it is an annual televised performance that takes place at the 'Sidney Myer Music Bowl' every Christmas Eve. "Carols" features performances of Christmas Carols and Christmas songs by various celebrities to raise money for 'Vision Australia.' On top of its function as a fund raising event it has become a family tradition to have on the TV during Christmas Eve celebrations.
I have performed in the "Carols Orchestra" on trumpet for about 15 or 16 years, and enjoy participating in it very much. It's a great way to finish the year and celebrate the holiday season with my workmates.
"Carols" occurs over three days. The orchestra is made up of strings from the Melbourne Youth Orchestra and the band that I play in, comprising of percussion, guitar, bass, drums, piano, 3 trumpets, 3 trombones, 3 french horns, 4 reeds and 3 backing singers. As well as the musicians, there is also the Carols By Candlelight Choir. In total I think there are over 200 performers on stage!
Rehearsals take place on December 22 and 23 and the 'live to air' show on December 24. Over the years the second rehearsal has attracted huge crowds and has become something of a performance as the audience pays a small entry fee.
The first rehearsal typically begins with us trying to fit ourselves onto the stage. Its always tight and space for instruments and stands is limited. For the trumpet section, we use trumpet, flugelhorn and sometimes piccolo trumpet. There are instrument cases, microphones, mic-leads, power leads and other stands everywhere and on top of this there are people running around setting them up and testing sound. Its an exciting time but can be a bit frantic. The musicians in the band are very funny people and I have found when the pressure is on they are at their most humorous!trumpet-section.
The first rehearsal is divided into two three hour calls and in this time we sightread the music and make any changes necessary under the direction of the Musical Director, John Foreman. He is a wonderful MD and also has a great sense of humour no matter how much pressure he may be under. I am constantly amazed how he remains so calm and clear despite having to manage 200 performers while communicating with backstage people, sound engineers, directors and whomever else. All communication to us from John is made through a microphone that is sent through a mixing channel to our headphones. We all have our own mixing desk called an "Aviom" that allows us to set the mix of the orchestra, click track and program to wherever we need it. Its a luxury that was not always available and I can remember a time when the MD would need to shout information across stage.
The second day of rehearsal sees the intensity pick up a notch. Its the last chance for section leaders to establish phrasing and for any last minute adjustments to be made to the music. Some arrangements are sparsely marked and give section leaders an opportunity to add their own interpretation or just make decisions to play them a particular way. It is important that each section is aware of these details in order for the music to be played well. The music is not rehearsed in show order because the rehearsal order is determined by the availability of the artists and when their flights arrive into Melbourne. This can be a bit of a challenge because it does not enable us to work out how to pace ourselves for the actual show. If there are a number of high intensity charts following each other on show night then stamina can become an issue. Its times like this when the trumpet section really needs to work as a team and make sure that if the lead player needs a rest, one of the other section players can take over. There have been times over the years when both trumpet 2 and 3 have been required to play lead for one or two charts. Most charts are rehearsed two or three times in the second rehearsal in order for the artists to be comfortable, sound to be mixed and for the lighting and cameras to rehearse their positions. Its a long day/night and can sometimes involve a fair bit of "hurry up and wait"! Adding to the pressure of rehearsal is the 10,000 or so people sitting in the audience watching the process!
Day three and its "showtime"! A tradition has been established over the decades of "Carols" where members of the band meet before the official call time for a Christmas get together. For many years it was in the Channel Nine carpark in Bendigo St, Richmond. Since Channel Nine has left Bendigo St, we have found a new meeting point. We enjoy some pleasant food and drinks and the occasional Cuban Cigar has made an appearance from time to time. Its a friendly time of good humour and a chance for us to relax before the pressure of the performance.
The actual show consists of a talk through with the MD and confirmation of any significant alterations that have been made to the music throughout the rehearsal period. Once we make our way onto the stage there is not much time to wait around. John Foreman gives us the countdown to going live and we are "on air". Each year I sit in my chair and marvel at the "down to business" attitude of the musicians I work with. They always play with total commitment to achieve the best result possible and I always get a sense of pride in contributing to the performance. There are always memorable moments in live music, some funny, some terrifying and some inspirational.
In May/June of 2010 the lead trumpeter, Dave Newdick suffered a serious heart attack and very nearly lost his life. How do I know this? I was next to him when it happened. Dave recovered from the attack and began his rehabilitation. During this rehab he was involved in a serious accident which left him hospitalised and suffering severe injuries. To cut the story short, Dave went on and played lead trumpet for "Carols" that year and featured in a performance of a Daryl McKenzie arrangement of "Amazing Grace". Dave played a solo introduction to the piece so beautifully after such an horrific year and was such an inspiration.
Check it out!
Another time minutes before the show was to go live, the pianist fell seriously ill and was unable to play. The MD at the time, Geoff Harvey, conducted the entire show and played the piano without missing a beat. Can you imagine having to direct over 200 performers with one hand, play piano with the other, totally unrehearsed on live television? What a champion!
"Carols By Candlelight" has been a gig that I am privileged to have been a part of and each year when I look out into the audience and see thousands of candles twinkling before me I am thankful to have been given the chance!
Merry Christmas everybody,
Shane