D'Addario Clarinet Prize Pack - $1500 value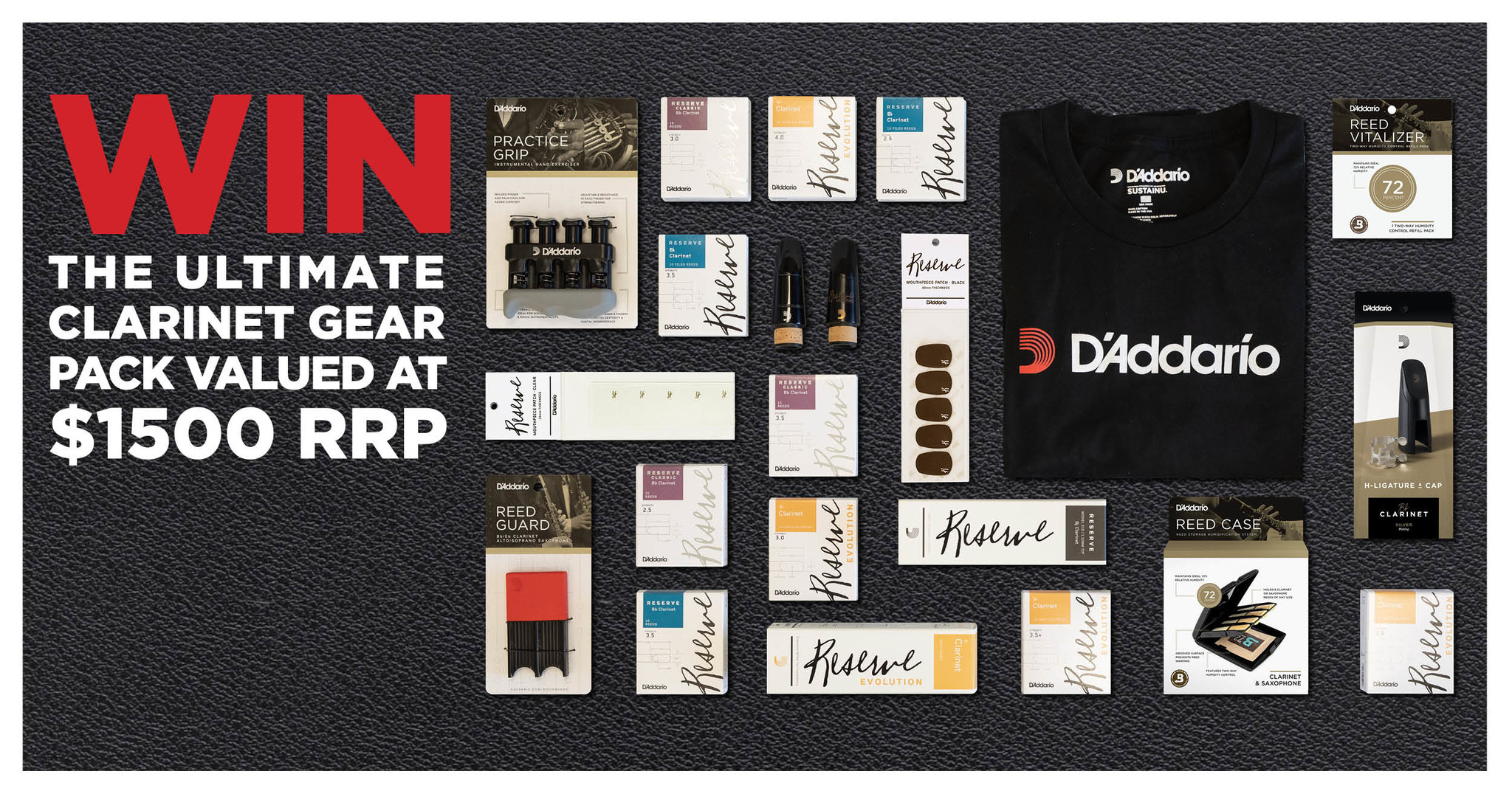 Prize pack includes: 2 mouthpieces, 10 boxes of reeds, a D'Addario T-shirt and heaps of accessories
To Enter buy any box of D'Addario Reserve, Reserve Classic, or Reserve Evolution Reeds in July 2019.
Email a copy of your receipt to: promotions@daddario.com.au
Conditions of entry:
Purchase any box of D'Addario Reserve, Reserve Classic, or Reserve Evolution reeds for Bb, E flat, or Bass Clarinet from an authorised D'Addario reseller in Australia and go into the draw to win the Ultimate Clarinet Gear Pack valued at a maximum value of $1500 RRP / One entry per one box purchased / No minimum age / Copy of receipt, as proof of purchase to be emailed to promotions@daddario.com.au as ticket entry.
Competition details as follows:
Starting Date 1st of July 2019 / Closing date 31st of July 2019 / All entries need to be submitted to D'Addario Australia by email to promotions@daddario. com.au by 2nd of August / Winner drawn 5th August 2019 at 5:00pm EST – draw to take place at D'Addario Australia head office: 25 Hi Tech Court, Kilsyth, VIC, 3137 / Winner to be notified on 6th of August by phone and/or email and prize will be sent to winner within 6 weeks of the draw / Results
of competition will be promoted on the D'Addario Australia Woodwinds Facebook (www.facebook.com/DaddarioAusWoodwinds) and Instagram (www. instagram.com/DaddarioAusWoodwinds) sites / Business directors and employees, their immediate families, retailers, suppliers, associated companies and agencies are not permitted to participate
Please note this promotion is being run by our friends at D'Addario, The Music Place takes no responsibility for any aspect of this competition and are merely sharing this promotion on behalf of D'Addario Australia.