Posted on
By Jessica Carlton
Jessica Carlton is a celebrated composer and trumpeter, whose pedigree includes time at the prestigious Juilliard School of Music. We asked Jessica to share some of her experience with us. See what aspirations have driven Jessica Carlton on starting a band.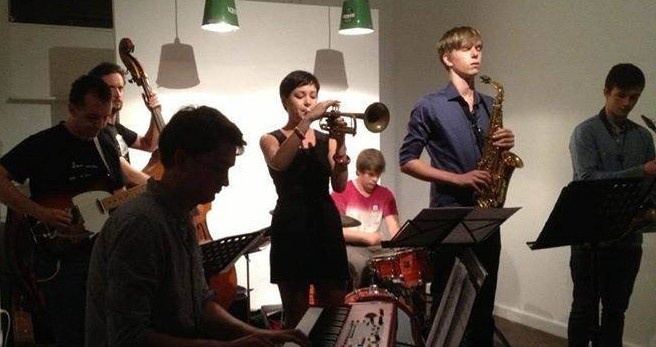 Firstly, for those who don't know me, please let me introduce where I am now.

I have been playing David Temby's trumpets since first moving back to Australia in 2006. The Music Place in South Melbourne was the first store I went to and this is where I bought the Temby Rose Gold Trumpet. I played on this horn throughout high school, and in my final year traded it in for the Temby Vintage Trumpet. This is the instrument I have played professionally since then, and it can be heard on my recently released album Not Alone.
The album features six of my original compositions and a fantastic group of musicians. I am very fortunate to be surrounded by musicians of such high calibre and so willing to spend time on my music. The feeling of being able to hold a tangible product of my work is incomparable and encourages me to think about the hard work and determination it took me to get here as I look ahead to future projects.

Back in time, just a little.

In 2012, I decided to enter a jazz composition competition at Monash University. I had never completed a composition before but was determined to submit something. For a while I had been interested in the idea of sextet composition, particularly through the listening of groups with three horns. After a month of listening and writing, I completed the tune Procurable Dream. To my surprise, I was selected as a finalist and received the opportunity to put a band together to perform the tune. It is from there that I formed the group previously known as The JC Jazz Collective and continued to write sextet compositions. After a few months, I had enough music to fill one set and began booking the band for gigs. I put together a press kit comprising photos of the band, music recorded from rehearsals, and a personal biography and began contacting as many venues as possible. We began playing at venues such as Conduit Arts, Uptown Jazz Cafe (through MIC) and 303, Northcote. About a month later, a venue contacted me to ask if we could play a two set gig. Despite only having half of the music I would need, I accepted the gig. I had two weeks to compose another set of music. It seemed impossible to me at the time - but, as I said, I was determined.

It was difficult to pull off, and the music was certainly not perfect, but it was the act of writing so much music in such a short space of time that kick started my passion for composition. Since then, the band and my music has evolved and the sextet now known as Issho has performed at venues all across Victoria. In 2013, I submitted another composition to the jazz composition competition, and won! The winning tune was the first of the six tunes that I wrote for my album. In 2014 and after the release of Not Alone, we performed at the Wangaratta Jazz Festival.

This year, I started a new project in which I had enough confidence in my compositional abilities that I could book the gigs prior to completing the music. This music has been performed at Uptown Jazz Cafe and Open Studio, and is set to be performed at the same venues again in the coming months. It is with the acquisition of these skills, and the experience I have gained as a bandleader and composer, that I can look forward to the many projects I will undertake in my future both locally and internationally and as a Temby Artist.
(ed: Jessica recently signed with Temby Australia, formalising their long-standing working relationship)

The main advice that I would give to young musicians, particularly those aspiring to start and run a band, is to become really involved in the music scene. In Melbourne, we are fortunate to be surrounded by so many amazing musicians and bands and the educational benefits of going to their gigs are endless. When I was younger, I spent most of my nights out at jazz clubs checking out different bands, and talking and asking questions to musicians who inspired me. Not only did I gain a greater appreciation for a wider variety of music, I gained a stronger motivation to learn, write, and create music.

Get lessons from as many people as you can, listen to as many musicians as you can, play with as many people as you can… there is so much information available to us, we just have to seek it.

Another benefit from getting involved in the scene in this way, is meeting other musicians of your age that you can begin to play with. I have been fortunate to play with many musicians, both on my music and theirs and I believe that learning from your peers is another invaluable tool to your development. Find a group of musicians who are just as motivated as you, organise sessions to play each other's music and don't be afraid to bring in new tunes and try out things that you are working on. I have had many fantastic opportunities to play my music with other musicians, including the recording of my album, and I am so excited for a future of playing with as many people as possible, and as much music as possible!

- Jessica Carlton
Check out Jessica Carlton's website jessicacarlton.bandcamp.com